CatcH And Release Tag (CHART) Scientific Data Collection Programme for Atlantic Bluefin Tuna (ABT)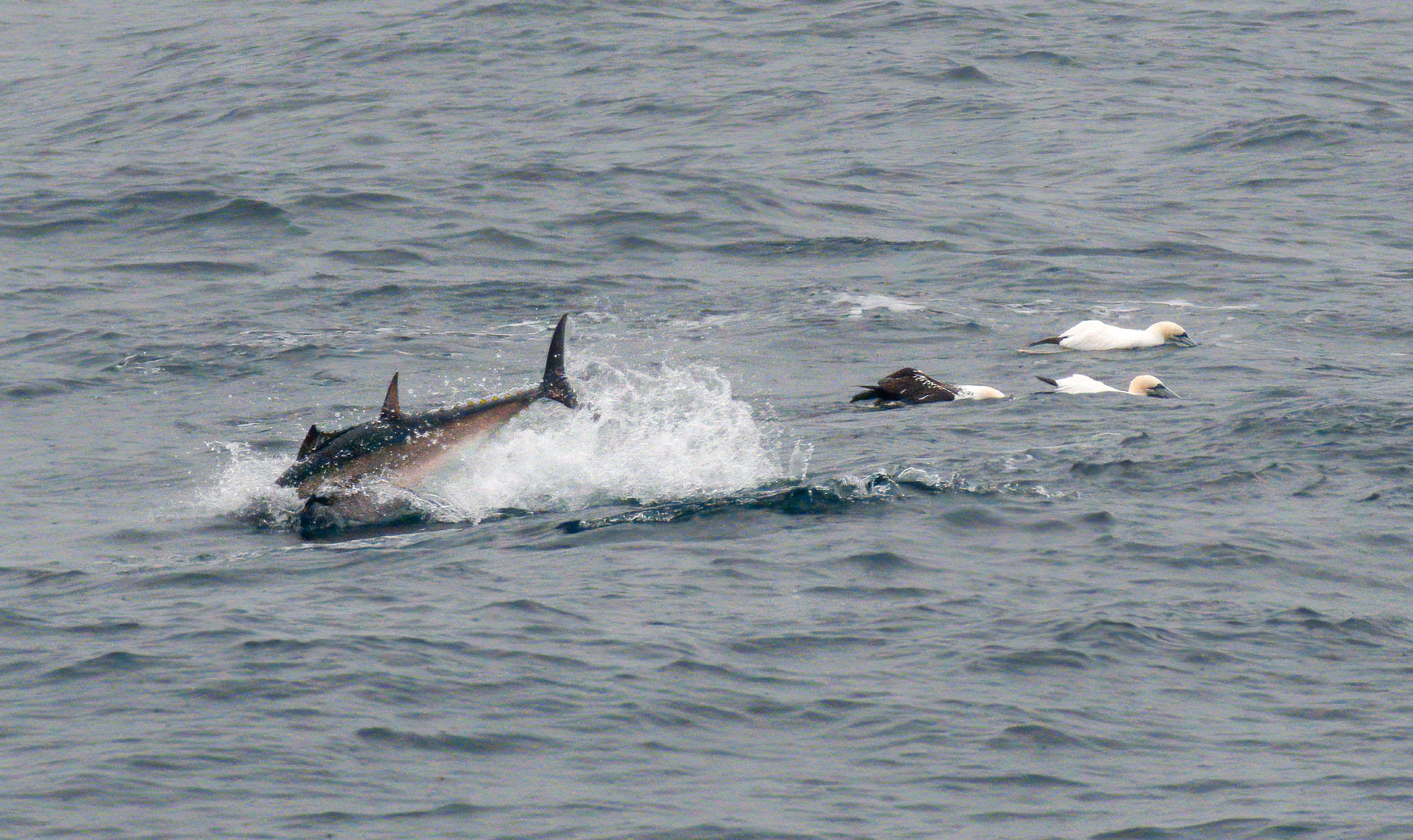 In recent years, the number of sightings of Atlantic Bluefin Tuna (ABT) in UK waters has been increasing. This has led to a growing interest in the species from the science community, the recreational fishing community, and the commercial fishing sector.  It has been suggested by representatives from the recreational fishing sector that a CatcH And Release Tagging programme (CHART) could contribute to international ABT research as well as the potential socio-economic benefits it could bring to coastal communities. 
The Centre for Environment, Fisheries and Aquaculture Science (Cefas) has invited suitable charter vessels and skippers to request an application pack to participate in the CHART programme in English waters in 2021, operating in ICES areas 7.d, 7.e (excluding the territorial waters (12 nm) of the Channel Islands) and 7.f.  The programme has been developed in collaboration with representatives from the charter vessel and recreational fishing sector and will permit up to 15 charter boat skippers to take out paying customers to catch ABT, which would then be tagged and released by skippers.  Training in fishing, tagging, fish handling and data collection techniques will be provided to successful applicants by Cefas prior to the MMO awarding the necessary scientific licence to fish.  Cefas will work collaboratively with skippers, to provide observers throughout the programme to ensure that the operating standards of the programme are maintained, and that the programme delivers valuable research while giving the highest consideration for the welfare and conservation of ABT. 
Timeline
April 23rd – Applications Open
May 10th 08:00 - Applications Close
May 24th– Feedback provided to all applicants
July (Date TBC) – two-day workshop for successful applicants
August 16th – Fishing licence start date
November 14th – Fishing licence end date
Selected Participants
The Cefas CHART Team are pleased to be able to announce today (15/06/2021) the fifteen vessels which have been selected to participate in CHART for 2021, subject to all training and boat safety measures being met.  If you would like to be a part of CHART, as a recreational angler, we would encourage you to book a trip with one of the companies listed below, as they will be allowed to legally fish for Atlantic Bluefin tuna. The fishing dates will be 16th August to the 14th November inclusive.   
CHART Programme Weekly Update
Each week we will update this infographic to show weekly progress during the fishing season.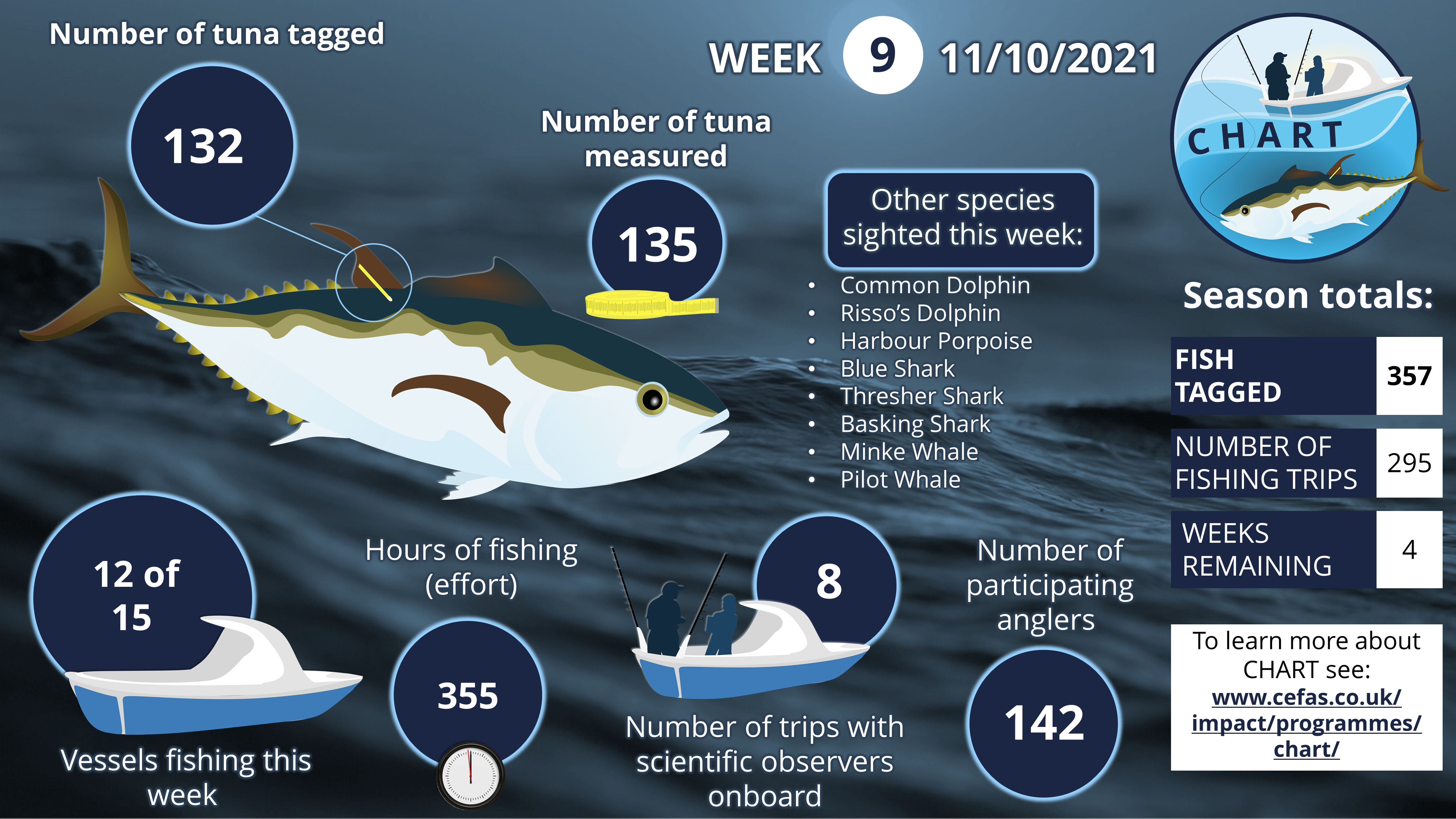 Frequently Asked Questions
What is CHART and how will a recreational scientific catch tag and release or CHART programme work in 2021?  
CHART is the acronym for a recreational scientific 'CatcH And Release Tagging programme' for Atlantic bluefin tuna (ABT).  Charter skippers have applied to join the programme and those selected will be trained in catching, tagging and data recording techniques so that they can contribute to ABT research, while also protecting ABT welfare. Once trained, skippers will secure an MMO scientific licence for the duration of the programme in 2021, allowing them to take paying customers out on ABT fishing trips. All activities will be closely monitored by Cefas to ensure that the benefits of the programme are maximised, and that risks to ABT welfare and conservation are minimised. 
When will CHART happen? 
Applications for the CHART programme opened on 23rd April 2021 and closed on 10th May. The fishing season will run from 16th August to 14th November inclusive.
Who decides which charter vessels are allowed to join this project?  
Cefas has developed a detailed application process and criteria to select charter boat skippers as participants in the programme. The process and criteria were designed and agreed in collaboration with representatives from angling and charter fishing groups.
How many vessels will participate in the programme?  
During 2021 the Marine Management Organisation (MMO) will license up to 15 vessels for this programme.
Who is funding this project?  
The 2021 CHART programme is being funded by Defra. There are additional opportunities for partnership funding which are being explored.
Will the successful applicants be paid to take part? 
The funding for the programme is being used to set up, monitor and evaluate the programme, but not to pay the successful applicants. Once trained and licensed, skippers will be able to take paying recreational anglers out to catch ABT (although only the trained skipper will then tag and release the fish).
Will there be any costs associated with participating in the programme? 
Successful applicants will not need to make payment for a licence. However, attendance at training workshops will be expected to be undertaken at the applicant's expense, and applicants will be expected to supply the required equipment at their own expense.   
How many years will the programme last?  
This pilot programme will run for 2021. The programme will be evaluated after the end of the fishing season (November 14th 2021). After the evaluation is complete, decisions will then be taken as to whether to extend the programme into subsequent years.  
How can anglers get involved? 
Anglers may participate in the fishery by booking places on an authorised vessel. 
Will training be provided to those who receive authorisation? 
All authorised skippers must attend a mandatory two-day training workshop, where guidance will be provided around best practice for fish restraint, tagging, welfare, condition assessments, data collection and fishing techniques. Only skippers who have attended the training will receive their licence to fish. One crew member per vessel may also attend the training session. The workshops are planned for July 2021.
What will an authorised skipper be permitted to do? 
The primary goal of the licence is to enable the skipper and their crew member to contribute to the CHART programme. Their role will be to manage the fishing and tagging process and ensure that ABT are handled appropriately and released in the best possible condition. Only authorised skippers will be permitted to tag ABT, and they will also be responsible for the safe release of the ABT caught by anglers on their boat.
What will an authorised skipper not be permitted to do?
Bringing ABT onboard is strictly prohibited, as is the use of live bait to capture ABT. Skippers may not target and tag ABT outside of the pre-notified fishing days and they may not delegate tagging responsibility to anyone else.
What measures are in place to protect against unauthorised targeting of ABT? 
The MMO and Inland Fisheries Conservation Authorities (IFCAs) will undertake inspections and patrols around the coast. Any unauthorised skippers found targeting ABT could be subject to prosecution and any licensed vessels acting outside the conditions of the licence may have their licence revoked. 
Where will CHART be operating? 
In the pilot year of 2021, applications were invited from vessels located in the eastern and western English Channel and the Bristol Channel (English areas of ICES Divisions 7.d, 7.e (excluding the territorial waters (12 nm) of the Channel Islands) and 7.f), and successful vessels will be permitted to fish only in these same localities.
How many days at sea must be completed? 
A minimum commitment of 15 days per vessel is required to participate in the programme.
What data will CHART be collecting and why are these data important?
Data collection to improve the science and management of ABT in English waters is the main aim of the programme. Data collection is therefore required for each angling trip targeting ABT and for ABT capture events. Data will be collected on the effort, number of hookups and tagged ABT, behaviour and condition of the fish and length of the ABT. Additionally, data will be collected on the socio-economic benefits of CHART through angler questionnaires and skipper feedback at the end of the season. Every ABT angling trip will be closely monitored; observers will be on board for approximately10% of trips, and authorised skippers will be required to have video monitoring of the leadering, tagging and fish recovery.  Data will contribute not only to improve our understanding of ABT in English waters but will also be summarised and supplied to the International Commission for the Conservation of Atlantic Tunas (ICCAT) as the management body of ABT, to support sustainable management of this species.
What are the conservation impacts of the programme?  
The purpose of the programme is to gather scientific information about ABT and the benefits of an ABT catch and release programme.  Animal welfare and sustainability have been at the forefront of the programme design process, and any impact on ABT will be minimised by applying a rigorous application and selection process, gear restrictions, close monitoring and ongoing evaluation of the programme. Successful applicants will have to attend a mandatory training and best practice workshop which will cover, fish restraint, tagging, welfare, condition assessments, data collection and fishing techniques. The protocols and training are being designed under the oversight of Cefas' Animal Welfare and Ethical Review Body (AWERB). Scientific observers will be on board for approximately10% of the trips and camera monitoring of the restraint, tagging and release will be mandatory to inform refinement, best practice and assist in training. Natural England have been involved in the programme design. The emphasis is on ABT welfare and the programme design includes a suite of measures covering mitigating, monitoring and evaluating any adverse impacts.  
Can skippers sell/use any ABT which may suffer mortality during the capture?  
Any ABT that die during the capture process need to be landed and handed over to the MMO. Failing to do so would be a breach of the terms and conditions of the licence provided on successful completion of the application and training process. The ABT will be used for scientific purposes and data contributed to international research through the ABT management body of the International Commission for the Conservation of Atlantic Tunas (ICCAT).  
Can ABT be landed if they are caught accidentally by other recreational vessels?  
Recreational sea anglers are not permitted to target ABT and must release any unintended catches (bycatch) immediately and unharmed. ABT caught as bycatch which are dead must be reported to the MMO by contacting the local MMO office, who may make arrangements for those ABT to be brought ashore. ABT brought ashore with permission must not be sold and will be used for scientific research purposes only.   
What is Defra's long-term plan for ABT?  
A consultation on how the UK's quota should be used for 2022 onwards, will be held later this year. Defra is keen to understand the views of industry and others on how best the UK can utilise ABT in a sustainable manner. This will, alongside experience of managing the stock and participating in ICCAT during 2021, help inform Defra's approach to ABT for 2022 and beyond.   
Who do I contact for more information?  
You can e-mail CHART@cefas.co.uk for more information. Please state the nature of your enquiry (e.g. general, FoI request) and your position (e.g. journalist, skipper, angler, public etc.) so we can direct your enquiry to the right person.