Pathogenic Vibrios – The Microbial Barometer of Climate Change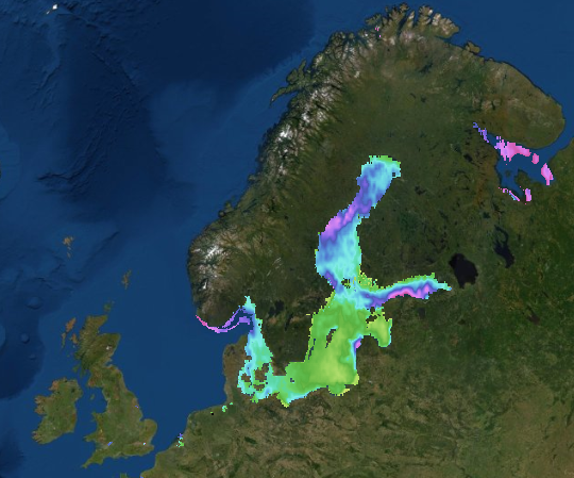 Bacteria present in marine systems can indicate the potential impact of climate change on infectious diseases. Vibrio spp. bacteria are found in low salinity waters around the world, and approximately a dozen Vibrio species are known to cause disease in humans. Infection can originate from exposure to seawater or consumption of raw or undercooked seafood, potentially causing severe infections both in humans and animals. As these bacteria prefer warm (>15 °C) low salinity water, they provide a good model to assess global warming in coastal zones.  Identifying what drives outbreaks associated with vibrios is important for food safety and public health.
Cefas has pioneered various approaches to study the environmental conditions associated with Vibrio outbreaks. Heatwave events in northwest Europe, such as those observed in the Baltic Sea in 2003, 2006, 2010, 2014 and 2018 (see image showing maximal Vibrio risk observed on the 31st July 2018, data courtesy https://cwcgom.aoml.noaa.gov/cgom/OceanViewer/ ) have been linked to increased clinical cases. By analysing data on salinity and surface seawater temperatures in conjunction with clinical cases, risk profiles can be developed for specific geographical areas, particularly areas undergoing rapid warming. In general, periods of enhanced warming, especially those associated with low salinity bodies of water are associated with elevated risk.  Using these approaches, Cefas, alongside international partners such as the University of Santiago de Compostela, NOAA (US National Oceanographic and Atmospheric Administration),the Universitat Autònoma de Barcelona and the European Centre for Disease Control (ECDC) have developed a range of free to use, daily updated and globally relevant risk mapping tools.  These approaches will allow risk managers, clinicians, and public health practitioners to offer rapid interventions prior to "at risk" events, such as those experienced recently in northwest Europe.