Safeguarding international trade in threatened shark species in Indonesia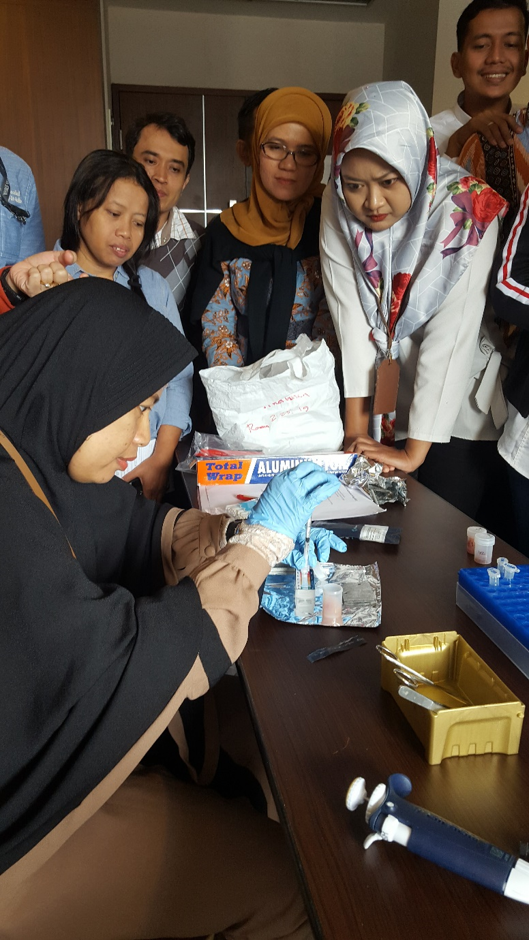 Indonesia catches the most sharks globally and is one of the world's largest exporters of shark and ray products, which includes fins, meat, liver oil and skin. Sharks are not only economically valuable in Indonesia; they also provide an important source of local protein.
However, unsustainable trade of shark products threatens the survival of some species. The Convention on the International Trade in Endangered Species of Wild Fauna and Flora (CITES) is an international agreement that aims to ensure commercial trade in wildlife does not threaten species survival, and several shark and ray species are currently listed. Still, illegal and unsustainable trade of prohibited species occurs due to the complexities of identifying species once they are processed into products.
Funded by the UK Government, under the Illegal Wildlife Trade (IWT) Challenge Fund, our project aimed to build capacity to reduce illegal trade of shark and ray products in Indonesia.  A key milestone in the project was the 'training the trainers' workshop which, in January 2020, brought together Indonesian and international experts to develop a nationally accredited training programme for shark and ray product inspectors.
Consideration for gender equality is important in all our project activities. As well as having a mixed gender project team from Cefas, MMAF and WCS, we have been successful engaging both men and women from Indonesians shark management trade throughout the project. Forty percent of the 20 attendees at the 'training the trainers' workshop were women, and regional focus groups have provided a forum to engage women who may have been less likely to be able travel to a meeting in Jakarta. Half of these regional groups had higher numbers of women than men attend.
Twenty inspectors from six national offices were selected for this intensive five-day training programme. The training modules covered teaching and sampling methods, data entry analysis and reporting, law and regulation, DNA extraction, biology and ecology, and identification of sharks and rays by a dedicated team of experts from the Ministry of Maritime Affairs and Fisheries (MMAF), Wildlife Conservation Society (WCS) Indonesia, Elasmo Project, University of Salford and the Mariani Lab.
Practical elements tested participants' skills on identification of sharks from whole carcasses, trunks, skin and fins, and training stations for DNA extraction were ran (in cases where visual species identification is not possible). Each member of this team will go on to train at least four other inspectors at their regional office.
Image: Nurmila Anwar from BPSPL Serang trying a quick DNA extraction method in front of her colleagues. Photo © Marine Cusa