Seaweed farming in the Philippines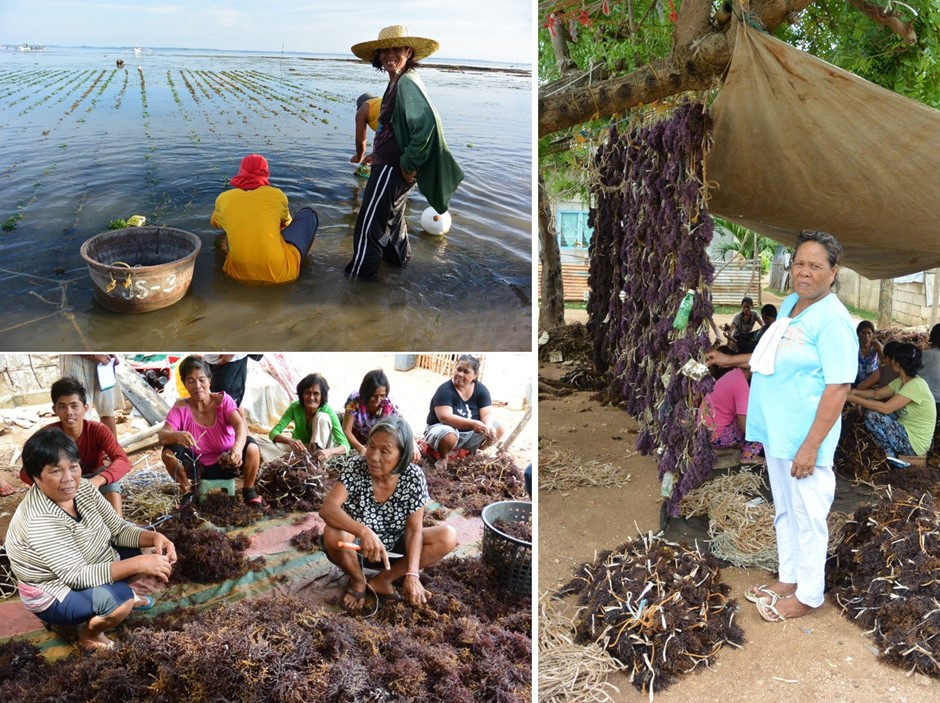 The aquaculture sector contributes significantly to the Philippines' food security and employment. Seaweed aquaculture improves the socio-economic status of coastal communities by generating employment, diversifying livelihoods, helping to meet basic needs such as children's education, health care and ability to buy food. Furthermore, it promotes development of small and medium sized enterprises, strengthening stewardship of marine resources. Women make up a considerable proportion of the seaweed farming workforce in the Philippines. In fact, seaweed aquaculture represents an opportunity for women to be part of the community workforce whilst being able to look after the household, thus strengthening community cohesion.
Development of seaweed aquaculture can also have environmental impacts on sensitive habitats and cause conflicts with other activities, therefore Cefas and the University of Cebu collaborated on a Newton Institutional Links project (2017-2019), to develop a toolkit for local stakeholders to identify suitable seaweed aquaculture production sites in Bantayan, in the Philippines. The project team used stakeholder engagement workshops, and surveys to develop a unique reference database of environmental and socio-economic data on seaweed aquaculture in Bantayan. A focus group and survey were also aimed at women involved in seaweed farming to understand the barriers, limitations and challenges of working in seaweed cultivation, and how this activity has empowered them and enhanced their role within the local community.
Although women represented a large proportion of the seaweed workforce, the percentage of female-owned farms in Bantayan was significantly lower compared to male-owned farms and women employed in farming activities had an average pay lower than male workers. Women were noticeably more involved in the preparation phase of the farm (e.g. preparation of seedlings) whilst men were predominantly active in the maintenance of the farm and during the harvest of seaweed. Men had greater influence over decisions about the farm assets (farm preparation and material to purchase) and the use of income generated through seaweed farming. Women, in contrast, were more empowered at household level (household expenses and healthcare).  
Within this project, gender-related aspects emerged as an important research focus, which we are planning to further investigate with future studies.