New visual guide launched to help support sustainable coral trade
14 November 2022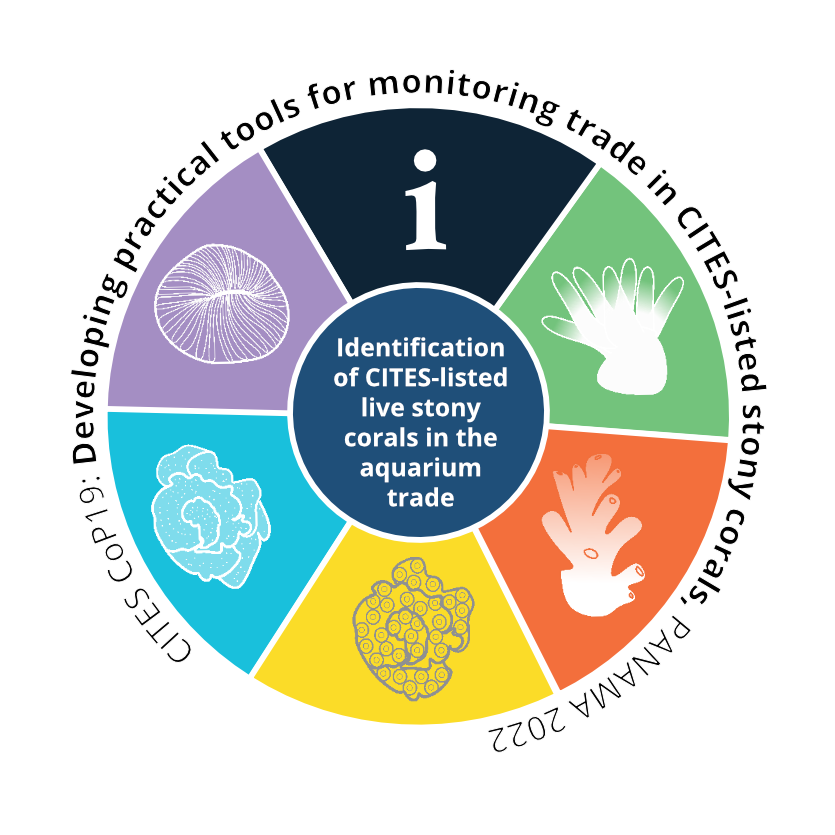 The process of identifying coral species traded on the international market will now become easier thanks to a new guide published by Defra and compiled by the Centre for Environment, Fisheries and Aquaculture Science Cefas), The Indonesian Coral Reef Foundation (TERANGI) and The Indonesian Nature Foundation (Yayasan Alam Indonesia Lestari - LINI).
Stony corals are the most traded CITES-listed marine animal globally and are protected under the Convention on International Trade in Endangered Species of Wild Fauna and Flora (CITES). They are typically traded as live specimens for the aquarium market or dead pieces for the curio trade. Between 2010 and 2019, over 46 million pieces of stony coral were traded globally. In the UK, over 60% of direct CITES imports are in live coral, therefore making it our most imported CITES-listed species.
However, identifying exported and imported coral species is often time consuming and complex.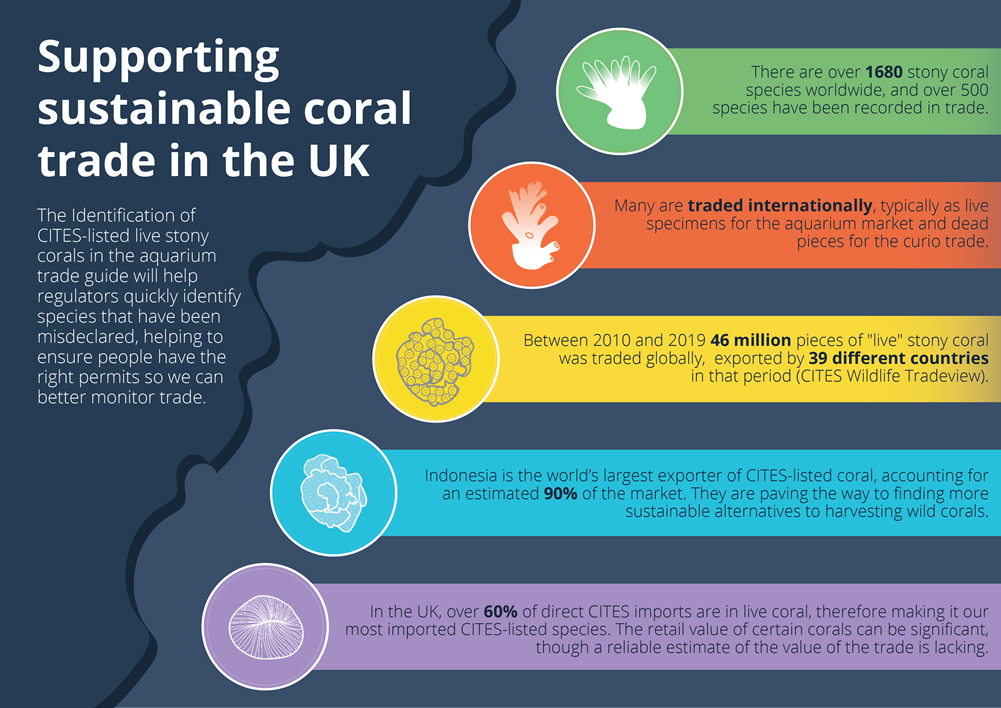 In February this year, Cefas brought together a range of external partners including governmental bodies from Indonesia (the world's largest exporter of live stony coral) and the UK, scientific experts, regulatory bodies, regional NGOs, and coral trade industry members, in a series of four virtual knowledge exchange workshops. Following these workshops, project partners have developed a practical identification guide for traded corals. The guide, which contains detailed images and descriptions of 55 stony coral genera, will help custom inspectors to better identify stony corals entering the UK. In particular this 'go to' guide will allow inspectors to differentiate stony corals originating from a wild-collected or mariculture source.     
Maricultured coral is considered a more sustainable alternative to wild coral collection for trade. During mariculture, a "mother colony" is collected from the wild, from which new offspring pieces can then be produced to supply trade without further take from the wild. It is important that inspectors can identify mariculture coral from wild coral during the export and import process as there are limited numbers of permits for both the trade of maricultured and wild collected coral. Previously, there have been issues with traders falsely representing wild coral as cultured to try to more easily access permits needed to trade. This can have implications for the management of trade and ultimately for the sustainability of wild populations.
"Coral identification is hard, even for trained scientists. This step by step guide will improve the fraud detection and coral identification ability of the inspectors, fasten the inspection process and improve trade monitoring allowing us to improve the sustainability of the coral trade" Safran Yusri, Head of The Indonesian Coral Reef Foundation (TERANGI).
Indonesia is the world's largest exporter of live coral and is paving the way to finding more sustainable alternatives to harvesting wild corals. The USA is the major importer of corals, followed by the European Union, Japan, and the UK. While less is known about the illegality of coral trade, illegal trade could be considerable given the difficulties in understanding which taxa are actually being traded. Although the collection of live coral is a localised pressure which is highly selective and considered low impact in the long-term, there are some concerns that collection for trade is an additional pressure to global scale threats such as climate change and ocean acidification.
The guide is being launched today during a dedicated side at CITES CoP19. The workshop, "Developing practical tools for monitoring trade in CITES-listed stony coral" will be hosted by Defra today (18 November) at 12.15 -14.00 in Salon 2. During this workshop, the audience will be given a copy of the guide so that they are able to follow a technical demonstration. There will also be a range of presentations from the partners involved in this project. This highly visual and easy to use guide is now available to download online from the Defra website. 250 A4 copies have been sent to inspectors, and 150 pocket guides will be given out during the workshop. If anyone else wishes to receive a copy of the guide, it can be downloaded from the Defra website, or contact Dr Joanna Murray on Twitter (@Joanna_M_Murray)
Watch this short video that includes an overview of the need for the guide plus the potential benefits!