Cefas launches new aquatic science podcast
3 November 2023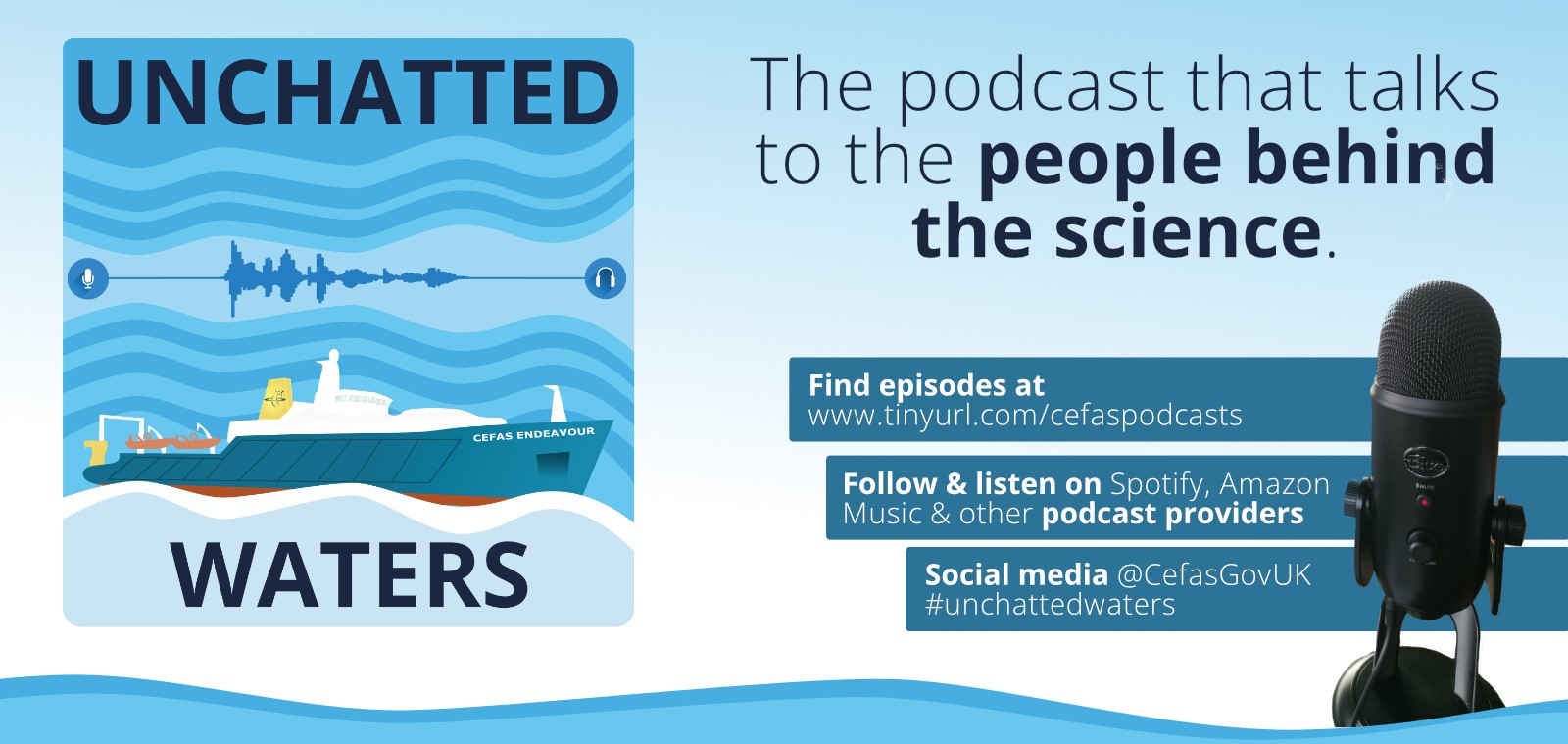 The Centre for the Environment, Food and Aquaculture Science (Cefas) is bringing the world of marine and freshwater science straight to your headphones, with the launch of a new audio podcast, 'Unchatted Waters'.   
Launched today, the new 6-part podcast series will offer listeners an introduction into the world of marine and freshwater science, helping audiences to understand some of the pressing and complex challenges facing our oceans and freshwater habitats. 
 Featuring 30-minute interviews with leading Cefas scientists, Unchatted Waters will shed light on the latest scientific research and technological innovations on a broad range of topics related to sustainable fishing, food security, aquatic animal health and aquaculture..  
Told through the personal stories and experiences of Cefas scientists, the podcast aims to connect listeners with 'the people behind the science', helping to bridge the gap between scientists and the public by providing accessible, engaging and jargon free content that will appeal to arrange of people including marine enthusiasts, policymakers and students alike. 
The first six episodes will be released on the 3rd of November with new episodes and other audio products expected to follow in 2024.  
The six episodes are: 
One health, how human, environmental and animal health feed global appetites with Chief Scientist, Grant Stentiford and Julie Bremner, Principal Marine Ecologist.
Farming our seafood, a journey across time and space with Elisa Capuzzo, Ecosystem Scientist and Keith Jeffery , Principal Aquaculture Scientist.
Setting sail to explore ecosystems during our surveys with Jeroen van der Kooij, Principal Fisheries Scientist and Sam Barnett, Fisheries Scientist.
Seafood safety, keeping seafood safe for consumers with Craig Baker-Austin, Principal Bacteriologist Scientist and Andy Powell , Microbiologist.
Fish Health, keeping aquatic animals healthy with David Verner-Jeffreys, Senior Microbiologist Scientist and Chris Evans, Head of Fish Health Inspectorate 
Fish and chips, how fish biology and electronic tagging expose fish lifestyles with Serena Wright, Fisheries Scientists and Jim Ellis , Fisheries Ecologist  
All episodes are available on our website and follow us on our social media for the latest updates.