New research identifies 'winners' and 'losers' of future climate change on UK fish species
7 July 2023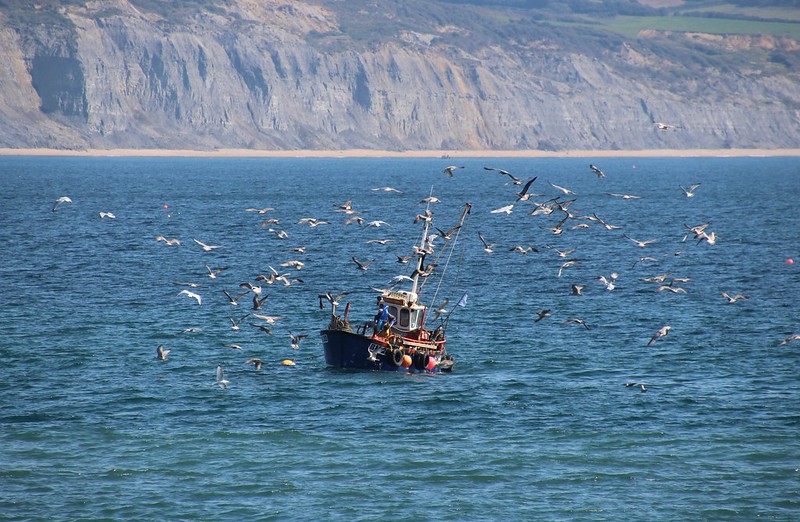 A new paper published by Cefas is helping the UK fishing industry to understand the future impacts of climate change on commercially important fish species across the UK. 
The study, which looked at the projected impacts of climate change on marine habitats for 49 different fish species, is helping fisheries to understand which species are likely to be 'winners' and see an increase in suitable habitat, and which will be 'losers' with a decrease in suitable habitat. 
The findings suggest that northwestern European waters are likely to become more suitable for species such as black seabream, European seabass, sardine, red mullet (surmullet), pouting, anchovy, sole and John Dory, ('winners'), but less suitable for species such as saithe, Atlantic wolffish, starry ray, halibut, ling, lemon sole, Atlantic cod, haddock and megrim ('losers'). 
The report is of interest to commercial fisheries as the shifts in distribution are likely to affect the distances travelled by fishers to catch their traditional target species. In addition, species distributions may shift across the political boundaries where quotas belong to different nations, or fishing communities. 
Cefas scientists collaborated with the Met Office and Plymouth Marine Laboratory to use high-resolution climate model outputs to generate information specific to waters around the British Isles. Previous studies have tended to use lower-resolution global climate model data, making it more difficult to anticipate and understand fish movements at specific locations. 
A total of 3185 model runs were performed in order to provide a more accurate understanding of impacts.  For each of the 49 species, five biological models were applied, and 13 different future climate scenarios were tested. 
Under all scenarios, the majority of the species examined were projected to shift northwards around the United Kingdom by 2060, in particular sardine, anchovy, red mullet, pouting and European squid.  
The report will help policy makers and fishers identify where fisheries management may need to  adapt to sustainably manage fish stocks, or to put in place protection measures to increase resilience to the impacts of climate change in the longer term. Equally, seafood consumers may need to adapt their preferences and grow to appreciate emerging, warmer water species, which United Kingdom fishers do not traditionally target.   
The seas around the British Isles, and in particular, the southern North Sea have been identified as one of 20 sites globally that have warmed the fastest over the past 50 years – called global marine climate change 'hotspots'. In 2022, through our network of WaveNet buoys, Cefas recorded some the highest sustained seawater temperatures ever recorded around the British Isles. Recent UK Met office data found that UK sea temperatures have already reached some of the highest for 2023, with Cefas buoys recording a similar trend for buoys located in the west. 
John Pinnegar, Lead Advisor on Climate Change and Director of the International Marine Climate Change Centre at Cefas said: 
"This study builds on previous Cefas research which shows that warmer seas are already having an impact on fish stocks around the UK with an increase in warm-water species, such as anchovy, bluefin tuna, squid and red mullet and a retreat of cold-water species, such as wolf-fish and Atlantic cod. However, a novel aspect of this research is that we have used high quality, locally-relevant climate data to provide a much more detailed understanding of future comings and goings of different species caught around the UK. As UK consumers typically prefer to eat a very limited variety of fish, namely the 'big five': cod, haddock, tuna, prawns and salmon, this report suggests that both consumers and the fishing industry may need to adapt quickly to reflect the changes we are seeing in our marine environment."
***The data used in this paper is openly available as a digital identifier via #cefasdataportal at Modelled projections of habitat for commercial fish around North-western Europe under climate change, 2020 to 2060 - Cefas (Centre for Environment, Fisheries and Aquaculture Science) **
Figure 1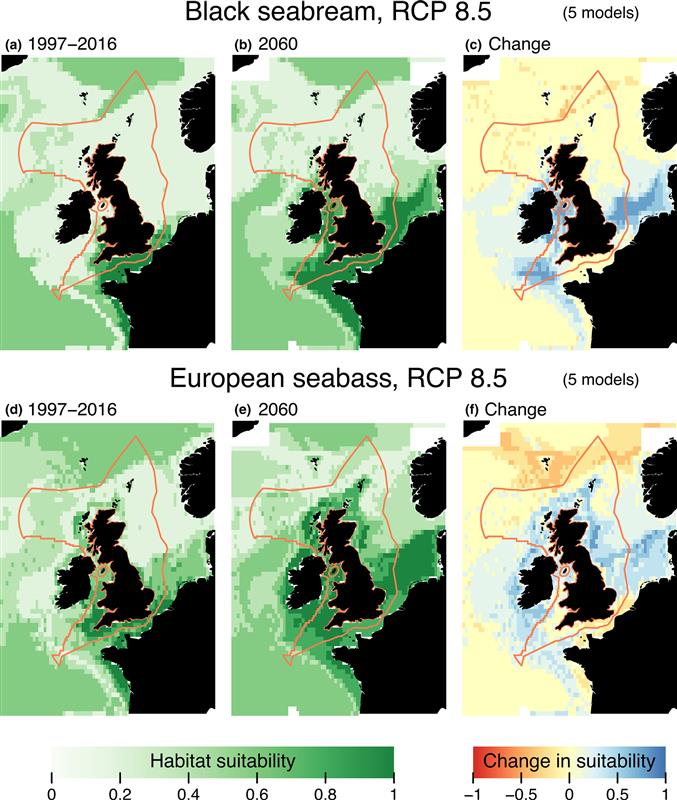 Figure1: The suitable habitat for the training period (1997–2016; left), for 2060 (middle) and the change in suitability (right) for black seabream (top) and European seabass (bottom), corresponding to RCP 8.5.
Figure 2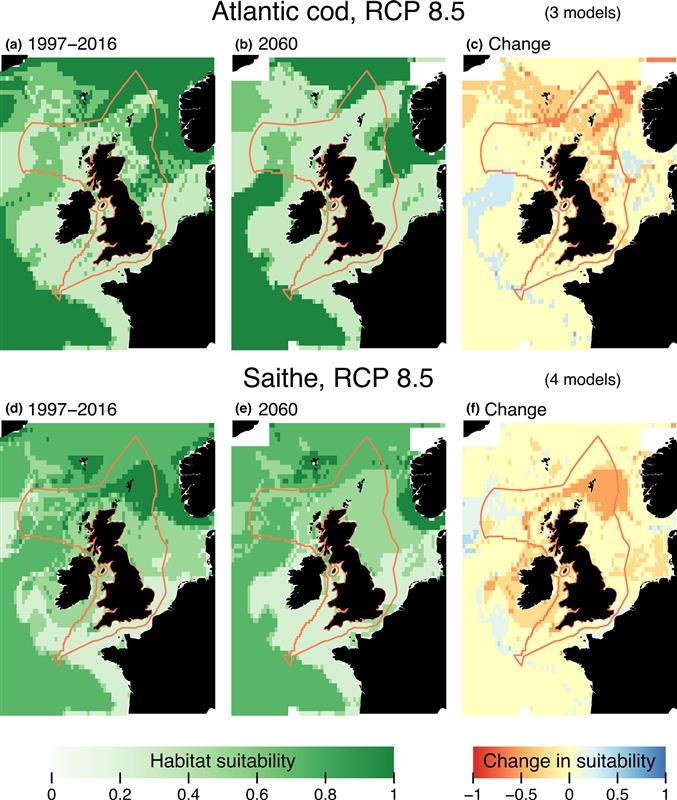 Figure 2: The suitable habitat for the training period (1997–2016; left), for 2060 (middle) and the change in suitability (right) for cod (top) and saithe (bottom), corresponding to RCP 8.5.