Cefas' Carl O'Brien CBE elected ICES' 1st Vice-President
10 November 2021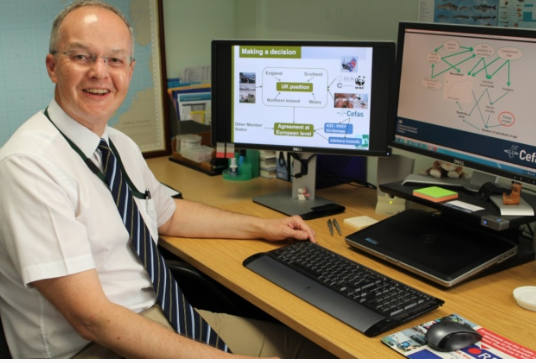 Following the ICES' 109th Statutory Meeting of its Council in October, Defra's Chief Fisheries Science Adviser Carl O'Brien's nomination as 1st Vice-President of ICES, has been confirmed, with a majority of the 20 member countries voting for Carl. His three-year appointment took effect from 1 November 2021.
Commenting on his successful election, Carl O'Brien said:
"I am proud to be elected as 1st Vice-President and I am grateful to the ICES' network for training me in marine science and advice; I am strongly supportive of ICES and its role in the development of talented scientists.
"Cefas provides resources that support ICES' work including data collection, the provision of scientists for expert groups and for positions of leadership within ICES. I actively encourage and support staff to develop their careers in partnership with ICES."
Welcoming Carl's election Cefas CEO, Neil Hornby, said:
"Our congratulations go to Carl on his new appointment, which will further strengthen our partnership with ICES and ensure that UK marine science excellence and leadership continues to drive international commitments to sustainable fisheries and healthy seas and oceans"
As newly elected 1st Vice-President to ICES, Carl O'Brien, Defra's Chief Fisheries Science Adviser has pledged to improve communications within and across the ICES' decision-making bodies in order to support collective decision-making in support of healthy and sustainable marine environments. ​​​​​​​​​​​​​​​​​​​​​​​​​​​​​​​​​​​​​​​​​​​​​​​​​​​​​​​​​​​​He is also committed to remaining an active contributor to expert groups, such as WKLIFE [Workshop on the development of quantitative assessment methodologies based on life-history traits, exploitation characteristics, and other relevant parameters for data-limited stocks] and WK6aCodID [Workshop on stock identification of West of Scotland cod] both of which he chairs, and is championing a proposal for the UK to host the ICES Annual Science Conference in 2024.
The UK shares a long-running history with ICES, as a founding member at its inception in 1902, before becoming a formal contracting party during the ICES' Convention of 1964. Throughout our historic collaboration, UK scientists across Cefas, Marine Scotland Science, AFBI and ICES' partner nations, have been key contributors to the development of our collective understanding of marine ecosystems.
Carl O'Brien's election furthers this long-standing partnership and builds on the Memorandum of Understanding (MoU) agreed by UK Government with ICES in January of this year.  The MoU outlined the advice and information ICES provides to the UK on conservation, protection, the sustainable use of the marine environment, sustainable fisheries and aquaculture, as well as marine data. ICES also provides annual advice on fishing opportunities as well as analysis of the status of our marine ecosystems so that we can manage our fisheries in a way that balances the needs of both our fishermen and our vibrant marine life.


Background

Carl O'Brien is a Chartered Statistician by profession and began his career in marine science when he joined Cefas' Lowestoft Laboratory in February 1995; after researching in the Brazilian Amazon.
He is the UK Government's Defra Chief Fisheries Science Adviser (since June 2010) at the Centre for Environment, Fisheries & Aquaculture Science (Cefas), ICES' Delegate (since October 2012), Chair of the Awards Committee (since 2017) and a former Vice-President (2018-2020). He was the Joint Buckland Professor for 2015 on the theme: securing the supply of food from marine fisheries, lecturing on: future fisheries management & governance in the European Union (EU).