South Pacific Region Commonwealth Litter Programme conference to discuss marine litter research, monitoring and solutions to reduce plastic pollution
28 February 2019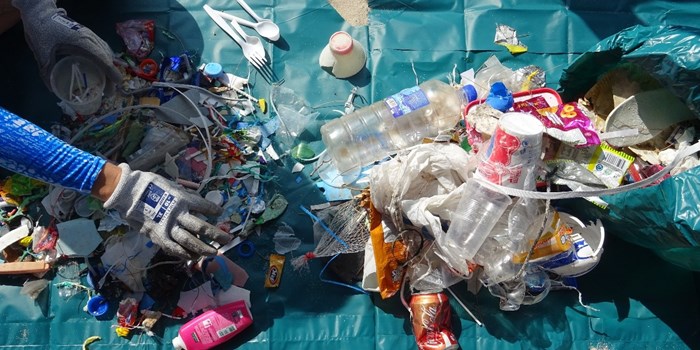 Scientists, experts and leaders from across the South Pacific will come together to share their ideas and develop next steps in the fight against plastic pollution. Representatives from regional, national and local governments, organisations and communities are meeting in Vanuatu this week to discuss current knowledge and identify additional solutions to be explored.
In recent years, the serious issue of marine litter and plastic pollution has been recognised by international governments and organisations, as well as local communities, as a growing threat to the marine environment and people's livelihoods. Marine litter is found in all oceans of the world, in both densely populated and remote locations.
In response to this global challenge, Marine Litter scientists from the UK government's Centre for Environment, Fisheries and Aquaculture Science (Cefas) have been busy in the Solomon Islands and Vanuatu since November 2018, monitoring the environment to collect data on marine litter and working with partners to tackle plastic pollution in the ocean. Results and outcomes from these partnerships will now be presented at the Commonwealth Litter Programme (CLiP) South Pacific regional conference, taking place in Port Vila, Vanuatu on the 18-19th February.
Globally it is estimated that 6.4 million tonnes of litter enter the oceans each year and 8 million items of litter enter the oceans each day. Up to 90% of marine litter is made up of plastics, originating from both land and sea-based sources. This makes plastic pollution one of the most widespread and immediate problems facing our oceans, which requires urgent and coordinated responses to take effective action.
The regional conference is being organised as part of (CLiP), which is funded by the UK government's Department for the Environment, Food and Rural Affairs (Defra) with scientific delivery led by Defra's executive agency, Cefas.  CLiP supports the UK's commitment to the UK and Vanuatu led Commonwealth Clean Oceans Alliance (CCOA). It will contribute to the Commonwealth Blue Charter, which calls for Commonwealth countries to drive action on issues affecting the world's oceans, including marine litter.
The CLiP programme involves Cefas working with partners across the Commonwealth to share expertise and find solutions to the environmental and socio-economic problems caused by litter in the marine environment. Scientists are collaborating with a range of organisations including national governments, local authorities, regional sea conventions, NGOs, universities and industry to help identify country specific solutions. The overall aims of the project are to support actions to reduce the amount of waste entering the marine environment, contributing towards making our oceans cleaner, healthier and more sustainable.
As part of their activities, the CLiP team carried out scientific monitoring at beaches in urban and rural locations in Vanuatu and Solomon Islands. Monitoring revealed that plastic and polystyrene were the most prevalent types of litter, constituting up to 98% of the items collected at some locations. Glass and metal were also found in large quantities at some beaches. Altogether, approximately 15,000 items of litter were recovered from the beaches monitored across Vanuatu and Solomon Islands. Water and sediment samples were also collected from some sites and are currently being analysed to measure the presence and quantity of microplastics.  Other CLiP activities delivered by Cefas or partners included socio-economic surveys; outreach to schools and community groups; scientific training of local staff; setting up laboratory facilities; workshops to share best practices on tackling marine litter; audits of ports and local waste collection/disposal facilities; a marine litter art and ideas competition and outreach to stakeholders. The recent national workshops held in both the Solomon Islands and in Vanuatu also gave the opportunity to use the data collected to discuss ways forward on actions to tackle marine litter.
The conference will provide an opportunity for participants to hear and discuss the knowledge gained from the project's research in Vanuatu and the Solomon Islands, as well as the successes and challenges of community-based projects, and the outcomes of national government workshops held earlier this year. The event will provide an opportunity to share knowledge, and prevention and mitigation approaches that work at a local level that can be replicated across island nations of the Pacific.  
UK Environment Minister Thérèse Coffey said:
 "Protecting our marine environment is a global challenge which requires global action. This conference is a fantastic opportunity for our world-leading scientists to share their expertise in the international fight to tackle marine litter.
 "Through the UK and Vanuatu-led Commonwealth Clean Oceans Alliance we will use the collective power of the Commonwealth to protect our marine environment for future generations."
Hon. Ralph Regenvanu, the Vanuatu Minister of Foreign Affairs said:
"We are pleased to have been working with Cefas, through the Commonwealth Litter Programme, to work towards identifying national solutions to the issues of marine litter, so that we can protect Vanuatu's precious natural resources now and for future generations. The government is looking forward to the discussions at the conference on approaches to tackling marine litter with our Pacific neighbours, and to agreement on some concrete actions to be taken in the coming months".
CLiP Programme Lead Thomas Maes said of the work so far,
"It has been a pleasure to work with Vanuatu and the Solomon Islands to tackle the emerging issue of marine litter. Alone we can do so little; together we can do so much! We only have one earth and our oceans are vital to our existence. We should all work together on keeping our oceans clean, healthy and sustainable for future generations to enjoy. To stop marine litter, we thus need a unified vision and a plan of action while developing ways of working together at national, regional and global scales".
Cefas scientists will continue to work with additional partners across the Commonwealth, in the Caribbean, Asia and Africa, after finishing work in the South Pacific. Cross-Commonwealth networks will be developed to ensure that any further ideas can be shared back to the South Pacific for consideration.