UK marine scientists begin work to deliver marine litter action in Belize
21 May 2019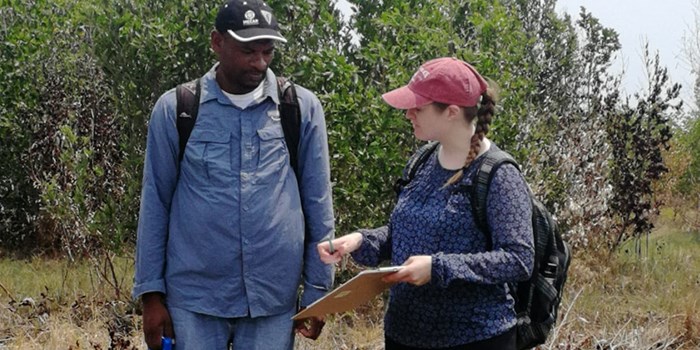 Marine litter scientists from the UK have started work with partners in Belize to tackle plastic pollution in the ocean as part of a £6 million project funded by the UK government.
Experts from the Centre for Environment, Fisheries and Aquaculture Science (Cefas), part of the UK government, are working alongside colleagues in Belize to identify country specific solutions to problems posed by marine litter, including reducing our reliance on single-use plastics, improvements in waste management, and developing more sustainable life cycles for plastics.
In recent years, the serious issue of marine litter and plastic pollution has been recognised by international governments and organisations, as well as local communities, as a growing threat to the marine environment and people's livelihoods. It will form a key part of the UK and Vanuatu led Commonwealth Clean Ocean Alliance (CCOA), launched at the April 2018 Commonwealth Heads of Government Meeting (CHOGM) held in London. The alliance unites countries around the Commonwealth in their shared ambition to tackle plastics in the marine environment. To support this, the UK government are funding the Commonwealth Litter Programme (CLiP) to help share expertise and solutions.
Funded by the UK government's Department for Environment, Food and Rural Affairs (Defra), the programme will bring together scientists, policy makers and communities around the world to identify actions which can be taken to stop plastic entering the marine environment, remove existing litter from the environment and raise awareness of what individuals and society can do to protect our marine habitats and wildlife.
Scientists from the UK are working with their colleagues across the Belize government, regional organisations, academia and community groups, to develop ideas and actions which support existing efforts, and will enable them to further achieve their ambitions on tackling plastic pollution. The programme will collect data, develop best practices and create a network of people, groups and communities across which these solutions and ideas can be shared. A contest will also be held to showcase the innovative ideas being developed by youth and Belize enterprises.
UK Environment Minister Thérèse Coffey said:
 "Plastic pollution is a global challenge, which requires global action. I'm proud to say the UK is at the forefront of this challenge and it is fantastic to see world-leading UK scientists joining their Commonwealth counterparts in the fight against the blight of plastic in our ocean.
"Building on the success of the projects in the South Pacific islands, I look forward to seeing what can be achieved in Belize with the collective power of the Commonwealth".
Cefas' principal marine litter scientist, Thomas Maes said,
"The Commonwealth Clean Oceans Alliance will harvest the collective power of the Commonwealth to protect our marine environment for future generations.
"Protecting our marine environment is a global challenge which requires global action. The Commonwealth Litter Programme (CLiP) is a fantastic opportunity to train scientist worldwide, eventually building capacity in the international fight to tackle marine litter."
Belize is the third country to receive support through CLiP and the team will bring their experiences from the first phase of the programme which took place in the two South Pacific island nations of Vanuatu and Solomon Islands. During the first phase the CLiP team set up scientific monitoring of beaches, trained local scientists to use new laboratory facilities and recovered 15,000 items of litter.
The Honourable Minister of Agriculture, Fisheries, Forestry, The Environment and Sustainable Development, Dr. Omar Figueroa said:
"It is important to tackle marine litter at its source, to protect Belize's beautiful environment, rich biodiversity, vibrant maritime economy and fantastic visitor destinations. I see a clean marine and aquatic environment as critical to Belize's sustainable development and that of the wider region. Belize is pleased to join the UK and other countries working together on this through the Commonwealth Clean Oceans Alliance.
"My Ministry is collaborating with CLiP to build evidence-based expertise in country to tackle this problem. An experience, ultimately, I hope we can share with our neighbours and the wider region to help keep this global problem in check. I am delighted that the knowledge generated under CLiP will help to further position Belize as a global leader in tackling plastic pollution."
The British High Commissioner, Her Excellency Claire Evans said:
"I am thrilled that the UK and Belize are working together to tackle the important issue of marine plastic pollution. The Commonwealth Litter Programme will see scientists from both nations work with communities, government and other groups to ensure we can all help keep our seas clean for our future generations to enjoy the Belizean coastal and marine environments."
Cefas and Coastal Zone Management Authority Institute (CZMAI) scientists have begun taking samples of water and sediments to test for microplastics and on Monday 20th May representatives from government and community groups met to discuss how to share findings from the programme.
Scientists will be in country until the end of July, working with local colleagues and stakeholders to monitor litter, clean beaches and raise awareness of actions which can be taken.
A final conference in July for wider Caribbean stakeholders will summarise findings and share potential solutions for the region, and wider CLiP activities other Commonwealth countries around the world.
Beyond July, as the programme expands to other parts of the world, networks will be developed to ensure that any further ideas can be shared back to the Caribbean for consideration.